Willy "the billy" came to us as a rescue. He was blind in one eye, could barely stand and would not eat. Over the next several weeks we slowly nursed him back to health and now he is the alpha male in our small herd. Willy is very friendly, albeit quite stinky, so beware of petting him.
Jigsaw came to us from friends of ours who have a local goat milk operation. Jigsaw is super friendly and loves to be petted.
Dolly and Molly are our two sister Boer goats that we got in the summer of 2021. Dolly also had a baby, Dottie, born in January 2022. As a meat goat breed, we are hoping to have a few babies born in the spring of 2022 and then they will be processed in late June. Please contact us if you are interested in goat meat.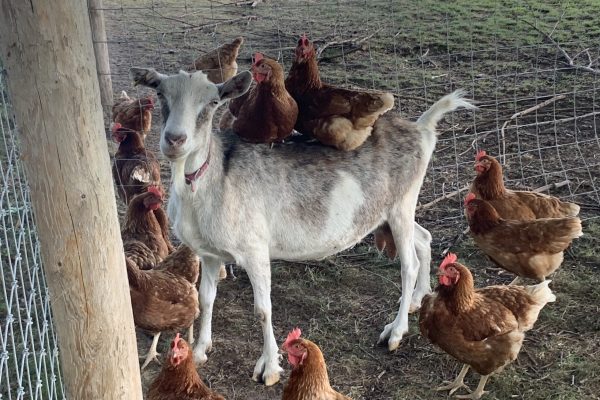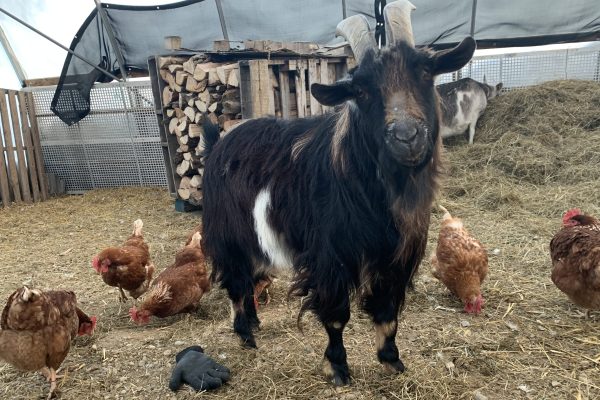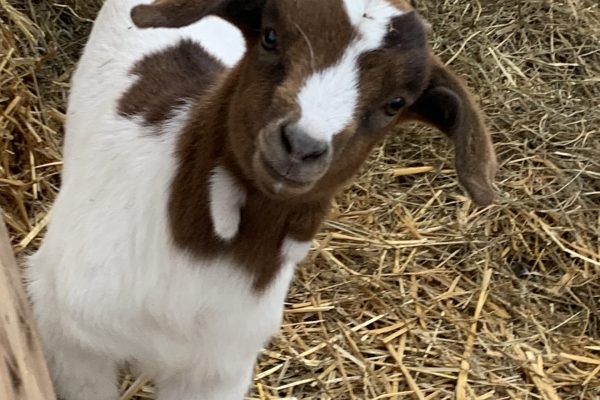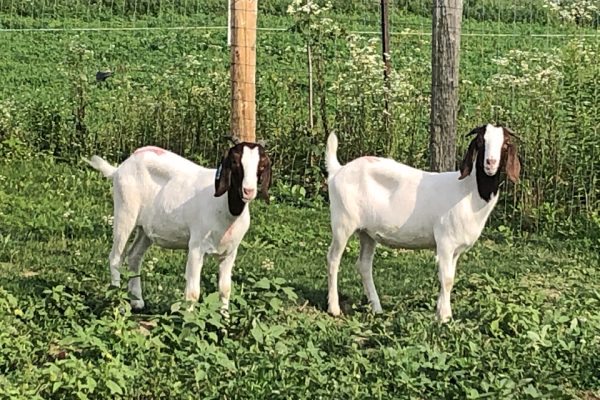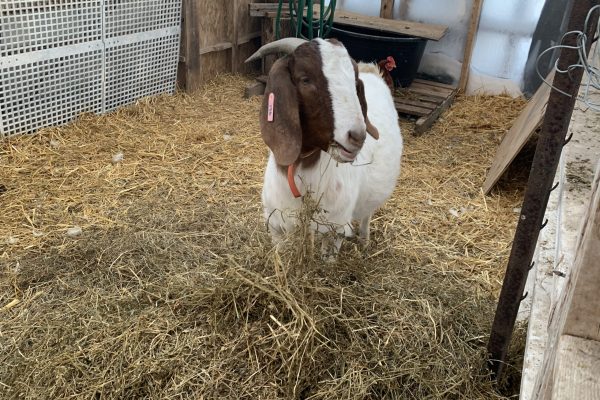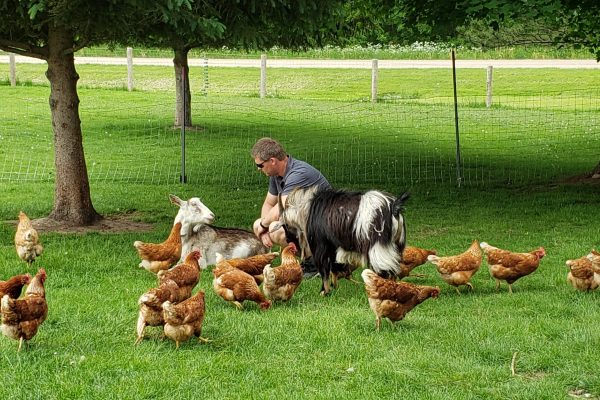 We have approximately 70 to 80 laying hens on our farm. They produce around 5-6 dozen eggs a day.
Our chickens are a mix of ISA brown and red sex-link layers, which are excellent brown egg producers. They love being outside where they can eat grass and search for little bugs and worms.
They are fed kitchen scraps and any extra produce from our gardens as well as supplemented with a non-GMO feed. The evidence of their healthy lifestyle can be seen in the deep orange yokes and tasty eggs they produce.
In 2020, we were part of the Family Food Program from the Chickens Farmers of Ontario which allowed us to grow up to 300 meat birds. Starting in 2021, we became part of the Artisanal Chicken Program which allows us to produce up to a maximum of 3,000 birds per year.
Our meat birds are on pasture as soon as they feather out (typically around 3 weeks) and remain on pasture until they are between 7 to 8 weeks old. While on pasture, we use the 1312 Cackellac which offers protection and shelter while at the same time it is easy to move the birds to new grass daily. Just like the laying hens, they are fed a non-GMO feed and have access to all the bugs, worms and green pasture their hearts desire.
All our chickens are processed at a provincially inspected facility. The average finished processed weight of the whole birds is around 6lbs but range in size from 4.5lbs to 9lbs.
We offer drumsticks, wings, thighs and boneless breasts, as well as packages of feet, heart, gizzard, liver and bones.
Fresh chicken is available 3 times per year (see our home page for the dates) and frozen is available at any time (while supplies last). To place an order of chicken, click here.
Just like the rest of our animals, our steers have access to pasture year-round and are a crucial part of the rotational grazing system.  When the snow gets to be too deep they are fed hay or baleage.
We are offering a variety of options for beef. Currently, we have Black Angus and Belgian Blue.
One is scheduled for processing at the end of November 2022. The meat will be ready for pick-up on the second week of December.  Please contact us if you are interested.
The next opportunity will be for Spring of 2023.